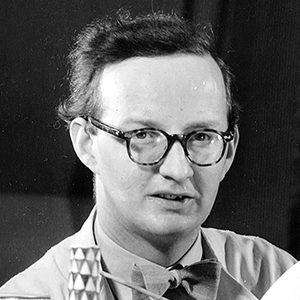 Stig Lindberg (1916-1982) was an visual man, a fun and handy resourceful artist with the ability of an modernist to combine the spiritual and the elegant with the practical! Stig Lindberg is one of Sweden's largest and most popular designers.

Immediately after his studies (1937), Stig Lindberg went to the Gustavsbergs Porslinsfabrik and asked for a job during the summer holiday. The factory was not going well and the then manager couldn't even get Hjalmar Olson a job as a summer coach, and the young Lindberg replied confidently:
At the time, he was only 21 years old. During the two summer months he showed Gustavsberg art director Wilhelm Kåge what he could do. Wilhelm Kåge soon realized that Stig Lindberg was a real talent and they worked together for a number of years.
The vases, bowls and special earthenware bowls were painted with cute colors and patterns. In 1949 Wilhelm Kåge gave artistic direction to Stig Lindberg. Stig Lindberg became a pioneer with his curiosity and talent, becoming the winner of the Gustavsberg Porcelain Factory.
Handy porcelain In the 1950s and early 1960s, the wide range of convenience porcelain was seized and his two major works at the time Therma and Berså quickly became two major sellers. Molds, vases, teacups, bowls and ashes signed by Lindberg were now almost available at every houshold home in 1960.
RIBB by Stig Lindberg was produced for the "H55" Home Exhibition in Helsingborg in 1955 and was in production until 1974. Again in production since 2003. RIBB by Stig Lindberg was produced for the "H55" Home Exhibition in Helsingborg in 1955 and was in production until 1974. In production again since 2003. Now the decoration and flowers had given complete freedom. This made Stig popular with young and old. Now Prunus, Feston, Pynta, Rödklöver, Betula, Aveny, Berså, Birka, Coq, Kanton, Ribb, Salix and Terma saw the light of day. Most people today are looking for design lessons at auctions and collectors' shows. Today Berså, Ribb, Adam, Eve, Prunus, Salix and Aster are produced.
The huge H55 home exhibition in Helsingborg became an important part of the decade. There, Spisa Ribb Stig Lindberg was exhibited next to the Flame Land of Terma. Spisa Ribb returned to production in 2003.
Other design As a multitasker, it started in 1947 with stencil printing technology for clothing. Textile prints such as Melodi, Friktlåda and Pottery were fun and surreal clothing prints that became best-selling books. By starting his patterns on clothing, Stig Lindberg wanted to show that there should be no distinction between art and craft. In the late 1940s he illustrated with the children's books by Lennart Hellsing Krakel Spektakel and Kusin Vitamin. Together they have constantly updated the Swedish children's book. In 1959 he designed a rotating screen television, Lumavision for Luma, and then a transistor radio for the same company. He was a popular artist even when it came to decorating public spaces, including the dining hall of the Ekeldal School in Gustavsberg. His last decoration was two ceramic walls in the Al Rashid Hotel in Baghdad in 1981.
In old age In 1974 he developed lung cancer and lived another 8 years with one lung. Easter 1982 Stig Lindberg died at the age of 66 in Italy, where he spent the last three years of his life. Stig Lindberg never left Gustavsberg's Porslinsfabrik, but was hired until recently.
"To create objects that are functional and at the same time enjoy their beauty." Are the words of Stig Lindberg – business designer, ceramist and illustrator.